Try These 4 Delicious Fast Food Recipes That You Can Make On Your Own
We know what all these recipes tastes like in Burger King or McDonald's so now let's try to make them on our own. It's not that hard, you just gonna need a little bit more time but the result is absolutely worth it!
1. Orange Chicken (Inspired By Panda Express)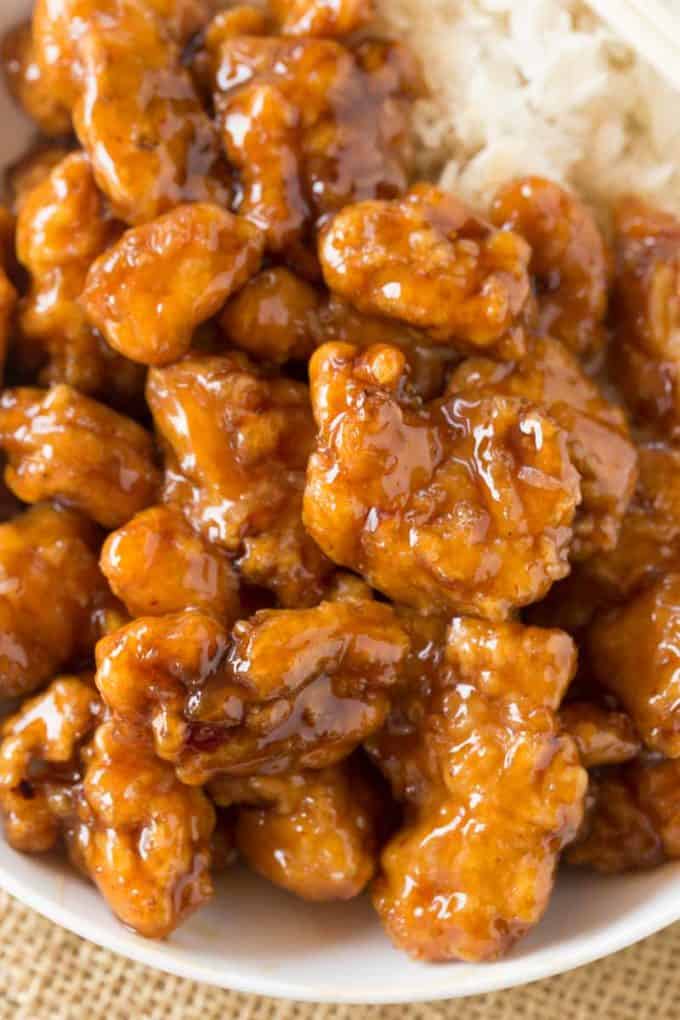 Servings: 2
INGREDIENTS
1 egg
1 teaspoon white pepper
1 ½ teaspoons salt
2 chicken breasts, cubed
½ cup cornstarch

(65 g)

¼ cup flour

(30 g)

vegetable oil, for frying
1 tablespoon oil
2 teaspoons garlic, minced
1 tablespoon ginger, minced
½ teaspoon chili flakes
1 tablespoon rice wine
1 ½ tablespoons soy sauce
5 tablespoons vinegar
1 ½ tablespoons water
3 ½ tablespoons sugar
1 tablespoon orange zest
scallion, chopped, for garnish
CORNSTARCH SLURRY
1 tablespoon cornstarch
1 tablespoon water
PREPARATION
Combine the egg, white pepper and salt in a mixing bowl. Add the cubed chicken breast, make sure it's coated with the egg mixture.
In another bowl, combine corn starch and flour. Add the coated chicken to the flour mixture. Stir to coat.
Working in batches, fry the coated chicken until golden and done. Remove with a slotted spoon and set aside.
In a large pan or wok, add oil, garlic, ginger and red chili flakes. Stir fry until fragrant.
Add rice wine and stir for a few seconds. Proceed to add all of the other sauce ingredients, including soy sauce, vinegar, water, sugar and orange zest.
Add the fried chicken. Stir to coat in sauce. Thicken the sauce with the cornstarch slurry.
Garnish with chopped scallions and serve with rice.
Enjoy!
2. Baked Chicken Fries
Servings: 4
INGREDIENTS
4 boneless, skinless chicken breasts
2 cups plain breadcrumbs

(230 g)

1 cup flour

(125 g)

5 eggs, beaten
1 teaspoon salt
½ teaspoon garlic powder
½ teaspoon onion powder
½ teaspoon paprika
½ teaspoon dried basil
½ teaspoon dried oregano
½ teaspoon pepper
PREPARATION
Preheat oven to 375˚F (190˚C).
Slice chicken breast in half, and cut into thin strips about the thickness of a french fry.
Season bread crumbs with salt, garlic powder, onion powder, paprika, dried basil, dried oregano, and pepper. Mix well.
Dredge chicken strips in the flour first, then cover in egg, and coat with bread crumbs.
Place on a baking sheet lined with parchment paper and bake for 20 minutes, flipping halfway.
Enjoy!
3. Buttermilk-Fried Chicken Sandwich
Servings: 8
INGREDIENTS
BUTTERMILK MARINADE
2 cups buttermilk

(480 mL)

1 teaspoon salt
1 teaspoon black pepper
½ teaspoon cayenne pepper
8 boneless, skinless chicken thighs
DILL DRESSING
1 ½ cups plain greek yogurt

(425 g)

3 tablespoons fresh dill, chopped
1 teaspoon garlic powder
2 tablespoons lemon juice
¼ cup grated parmesan cheese

(30 g)
SEASONED FLOUR
2 cups all-purpose flour

(250 g)

1 tablespoon salt
2 teaspoons black pepper
1 ½ teaspoons cayenne pepper
1 tablespoon garlic powder
peanut or vegetable oil, for frying
FOR SERVING
softened butter, for buns
8 brioche burger buns
1 head butter lettuce
2 tomatoes, sliced
PREPARATION
Make the buttermilk marinade: In a medium bowl, combine the buttermilk, salt, pepper, and cayenne. Toss in the chicken thighs in the marinade to coat. Marinate for at least 1 hour in the refrigerator, or overnight.
Make the dill dressing: In a small bowl, combine the yogurt, dill, garlic powder, lemon juice, and Parmesan cheese. Cover and let sit for at least 1 hour in the refrigerator to chill.
Make the seasoned flour: In a medium bowl, combine the flour, salt, pepper, cayenne, and garlic powder. Dip the marinated chicken in the flour mixture until the chicken is completely covered.
Heat the oil in a deep pot until it reaches 350˚F (180˚C). Do not fill more than halfway with oil. Carefully fry the chicken for 7 minutes, or until cooked through.
The internal temperature should reach 165˚F (75˚C), and the chicken should be golden brown and crispy. Drain on a paper towel–lined plate or wire rack.
Heat a large skillet over medium heat. Butter the cut sides of the burger buns, then toast on the hot skillet until browned and crisp. Build the sandwiches with the toasted buns, lettuce, fried chicken, tomato slices, and dill dressing.
Enjoy!
4. 11 Herbs And Spices Fried Chicken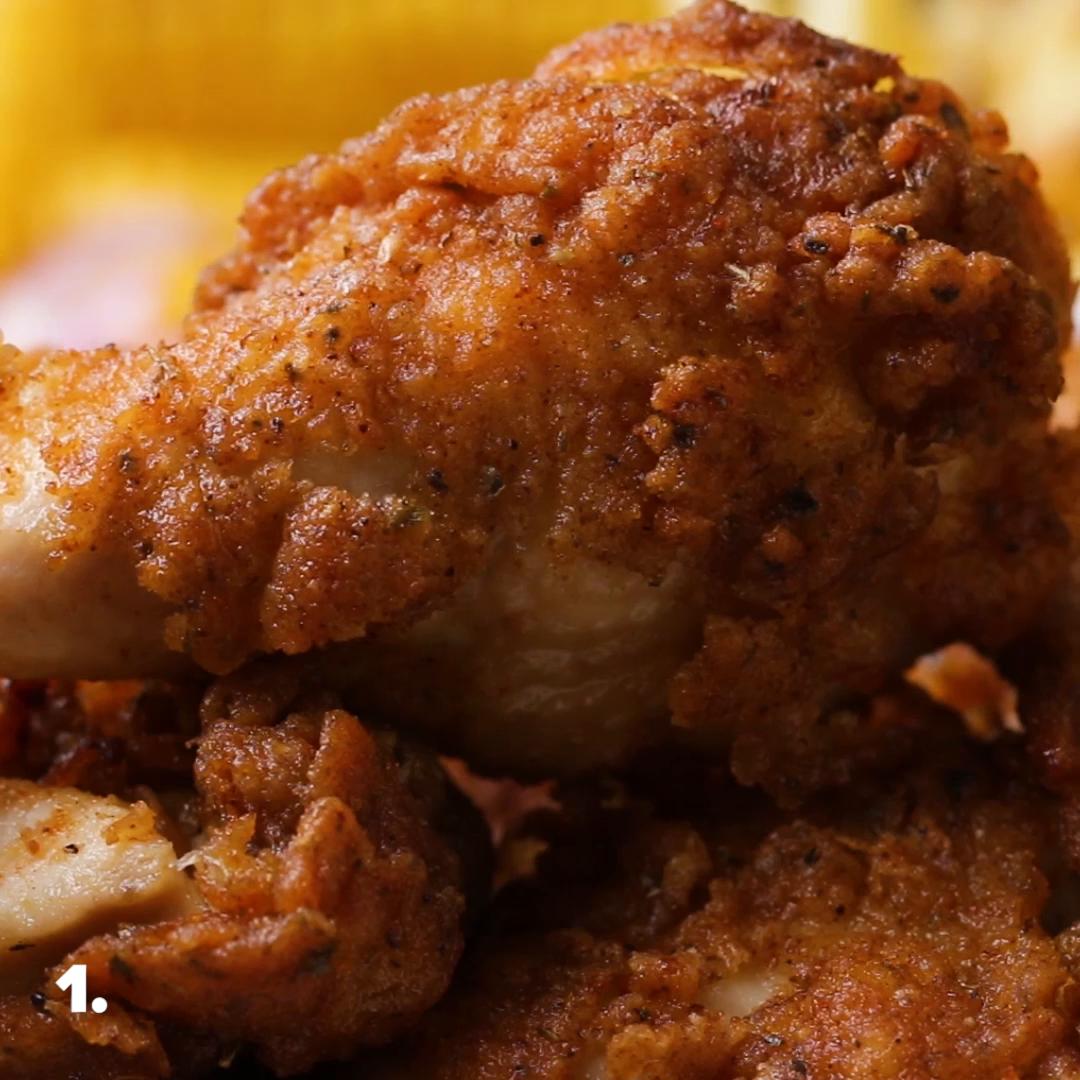 Servings: 8
INGREDIENTS
1 ¾ cups buttermilk

(400 mL)

2 eggs
8 chicken drumsticks
8 ½ cups vegetable oil

(2 L)
HERBS AND SPICES MIX
2 cups flour

(250 g)

2 teaspoons salt
½ tablespoon dried thyme
½ tablespoon dried basil
1 teaspoon dried oregano
1 teaspoon celery salt
½ tablespoon black pepper
1 tablespoon mustard powder
2 tablespoons paprika
2 tablespoons garlic salt
1 tablespoon powdered ginger
1 tablespoon white pepper
PREPARATION
Beat the eggs into the buttermilk.
Add the chicken pieces to the buttermilk mixture and chill for an hour.
In a large mixing bowl, mix the flour with all the herbs and spices.
Coat the soaked chicken pieces in the herbed flour mixture, shaking off any excess.
Heat oil in a large sauce pan to 325˚F (170°C), then turn to low heat.
Fry the chicken in batches for 15 minutes until the chicken is cooked and the skins turn golden brown.
Transfer to a paper towel-lined plate.
Enjoy!